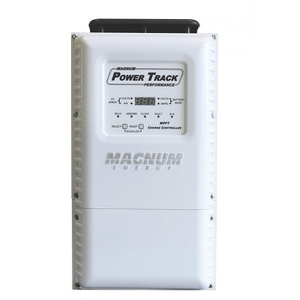 Magnum PT-100 100A MPPT Charge Controller
Magnum PT-100 100A MPPT Charge Controller
Made in USA
The PT-100 is a Maximum Power Point Tracker (MPPT) charge controller designed to harvest the maximum available energy from the PV array and deliver it to the batteries.  The PT-100's MPPT algorithm finds the maximum power point of the array and operates at this point while regulating the output current and battery voltage to fully charge the battery.
FEATURES:
Maximum Power Point Tracking (MPPT) technology for increased PV power output efficiency
Multi-state Charging for maximizes system performance and improves battery life
Optimal Battery Charging using an included external temperature sensor for optimum battery charging, even during extreme temperature changes
Compatible with 12, 24, or 48V battery systems with automatic detection of system voltage
GFDI: Integrated PV Ground-Fault Detection and Interruption/Indication, with pre-fault leakage/diagnostic metering
AFCI: An integrated PV Arc-Fault Circuit Interrupter detects, indicates, and extinguishes series arcs. The AFCI is designed to meet the new National Electric Code (NEC) Article 690.11 requirements
Extensive Electronic Protection: Over-temperature protection, power derating when temperature is high, PV short circuit and high PV input shutdown, output overcurrent protection and night-time back-feed (reverse current) protection
Supports large PV arrays - a single controller supports a large PV array up to 6600W
High Efficiency - provides higher than 99% conversion efficiency and uses less than two watts of power in nighttime mode
Multiple LED indicators and large digital LED screen on front panel for easy-to-read system information
Convenient Installation - Run all of the wiring to the unique, remain-in-place wiring box with ease prior to installing the full PT-100 unit
On-site Updates - The PT-100's software can be updated on site
Easy MP and MMP integration - The PT-100 is designed to work with a Magnum Panel (MP) or Mini-Magnum Panel (MMP). It provides room and access to PV and battery disconnect breakers
Optional ME-ARC50 Remote works with internal data-logging functionality that keeps energy harvest information and battery Ah/Wh data for up to 255 days. It is the only remote, currently, that works with the PT-100 menus.
SPECIFICATIONS
| | |
| --- | --- |
| Maximum PV Input Voltage     |     200 VDC + battery voltage or 240 VDC whichever is lower |
| Maximum PV Operating Voltage |     187 VDC |
| Nominal Battery Voltage Range |     12, 24, or 48 VDC |
| Battery Charger Output Voltage |     10 to 66 VDC |
| Maximum Output Power |     6600 Watts |
| Peak (and full power) Efficiency | >99% (98% typical) |
| Charger Regulation Method  |     Automatic three-stage (Bulk, Absorption, Float) Charge with Manual Equalization |
| Overcurrent Protection  |     With Two Overlapping Circuits |
| Operating Temperature |     -28°C to +60°C (-4°F to 140°F) |
| Operating Humidity  |     0 - 95% RH Non-Condensing |
| Enclosure Type |     Indoor, Ventilated, with Removable Powder-Coated Conduit Box |
| Warranty |     Five Years Parts and Labor |
| Weight |     12.5 lb (5.7 kg) |
| Dimensions |     8.5" x 15.5" x 4.0" (21.6 cm x 39.4 cm x 10.2 cm) |
---
We Also Recommend
---