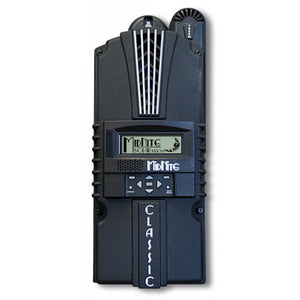 Midnite Classic 150 MPPT Charge Controller
MidNite Solar CLASSIC 150 MPPT Charge Controller
The Classic 150 MPPT Charge Controller has Arc Fault, Ground Fault, free web monitoring, a graphics panel and Solar, Hydro and Wind Modes. The Classic 150 has a maximum output current of 96 amps, an operating voltage of 150 volts and works with 12 to 72 volt battery systems. The FREE MidNite Solar Local Application enables you to monitor your Classics over your local network or the Internet. As with the whole Classic Line, the Classic 150 has MidNite's exclusive HyperVOC which extends VOC limits when needed. 
FEATURES:
150 V operating voltage
Max current output: 96 amps
ETL listed to UL1741 and CSA
Terminals are rated for 75 C
Type 1 environmental rating
Exclusive HyperVOC extends VOC limits
12-72V battery
Built in DC-GFP and Arc Fault
Detector
Solar, wind and hydro MPPT modes
Ships with MidNite Battery Temperature Sensor (MNBTS) and printed Manual.
Listed by ETL for US & Canada
CE Certified Listed
FCC Class B Listed
Made in the USA
Technical Specifications
Technology: MPPT
Battery Voltages: 12V, 24V, 48V, 72V
Max Input (PV) Voltage: 200 V
Max Output (Battery) Current: 96 A
---
We Also Recommend
---