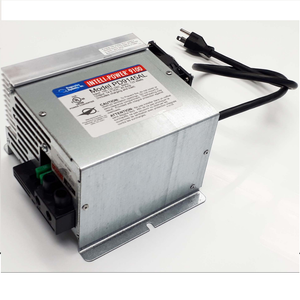 Progressive Dynamics 24V LiFePO4 Battery Charger 25 or 40amp
Progressive Dynamics 
INTELI-POWER® 9100L SERIES
Standard features on all models:
Reverse battery protection protects converters from damage resulting from improper (reverse) battery lead connection.

Units deliver filtered DC power to the Lithium Ion Batteries to ensure their built-in electronic balancing circuits operate properly.

Electronic current limiting automatically reduces output voltage when maximum capacity is exceeded. Protects your investment.

Low line voltage protection automatically shuts converter down if input voltage is insufficient.

Variable speed intelligent cooling fan automatically monitors converter temperature and activates fan at speed required.

High voltage protection protects converter from spikes or surge of voltage over 13.5V.

Automatic thermal protection reduces converter output to safe levels when unit temperature exceeds pre-set limits and protects converter from damage due to excessive heat.

Output Voltage can be FACTORY ADJUSTED to meet OEM requirements for various Lithium Ion Battery chemistries and voltages. Standard "L" series voltages are set for 14.6/28.55 volts to meet requirements for Lithium Iron Phosphate Batteries. Other chemistries may require different voltages.

The PD9100L Series can be wired in parallel to charge at much higher current rates. They can also be wired in series/parallel to charge 36, 48, 60, 72 and higher voltage battery packs at high charge rates.

2 year limited warranty.
Input: 105-130 VAC 50/60 Hz.
900 Watts
Output: 28.55 Volts VDC 25-Amps
Dimensions: 8.25"L x 7.25"W x 4.7"H
Weight: 4.5 lbs.
Input: 105-130 VAC 50/60 Hz.
1300 Watts
Output: 28.55 Volts VDC 40-Amps
Dimensions: 9.15"L x 7.38"W x 3.6"H
Weight: 5.8 lbs.
---
We Also Recommend
---